Holidays are one of the most aspiring thing now a days for everyone. And Travel Agents plays vital role in planning customers' holidays. While planning the trip every smart travel agent will try and cover one 5 stars hotel stay to add luxury portion in the trip. And when it comes to 5 stars than Taj Hotels & Resorts by Indian Hotel Company Ltd. From Tata Group remains top of the list. In this blog post we are listing down reasons why every travel agent (where ever possible) try to suggest and book Taj Hotels for their customers. This will not only make the customer stay memorable but will also increase the reputation of Travel Agent for suggesting the best and will earn him loyal customer for repeat business.
BOOKING & RESERVATION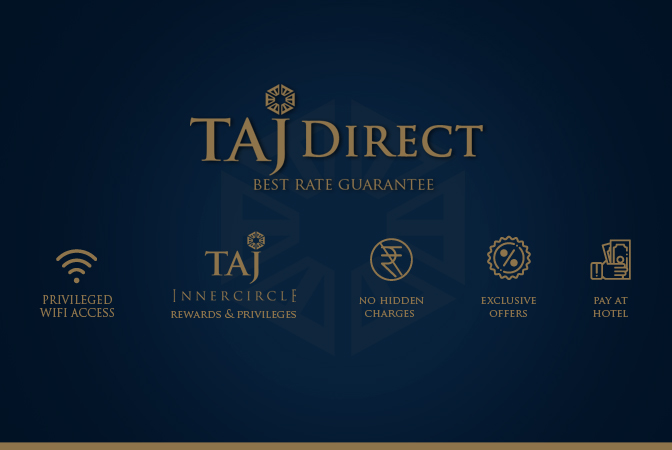 1. Taj Hotels & resorts have their centralized global reservation centre. All bookings and reservations are managed from there. It has all your booking updates and information. So just one point contact centre with super cooperative staff who are keen to provide you best deals and rates with seamless booking experience. Available 24 x 7.
2. They have their own signature loyalty program, Taj Inner Circle. The program offers delightful rewards across their portfolio of 80+ hotels in India, 15+ hotels internationally, 350+ restaurants and bars and 65+ spas. You will earn points on every eligible spend. Apart from rewards and points, members can also experience specially curated "Circle Series" events, including Comedy Nights, Live Music Nights and Pocket Movie Nights. You can enroll to Taj Inner Circle Program here.
3. With Their biggest portfolio of 100+ hotels within India and at key destinations overseas, they are probably the largest hotel chain in their category in South Asia. So Travel Agents, where ever you want to plan holidays for your customers in India or certain locations outside India you will sure to get their hotels or resort there. This makes it possible for you to design itinerary where you can offer stay at Taj Hotels only to delivery wow experience for your customers.
4. Their direct booking service via global reservation and support centre provides free cancellation option prior to 1 month so if you want to suggest a travel plan in advance with even little uncertainty – you can go without any worry. 
5. They cover Pay At Hotel option when you book direct with them. Process is simple and hassle free – you give your credit card details for your booking confirmation and it's done. No pre-payment required. Later while checking out you can either pay by cash / bank transfer or credit card at hotel. Easy.
6. Want to shift or amend your customer booking dates? No problem. And even if you have booked at more than one Taj Hotels or Resorts with connecting dates – all booked Hotels or Resorts will give their best to accommodate your new dates without any kind of date change charge or fussiness. With Taj its no worries.
7. Round the year – on their website TajHotels.com they run compelling exclusive offers. Little planning in advance for your customers can get you an extra night or lots of freebies. Gives you an edge when you pass them to your customer and surprise them. Keep checking here their ongoing offers.
HOSPITALITY
8. Hospitality at Taj is legendary. Perfected and fine-tuned over years of experience. And its starts from the moment you enter their resort, not just at the reception but till they accommodate you in your room / suite / villa / cottage – check out few images below as how they welcome their guests….
9. Over the years, Taj Hotels & Resorts has played gracious host to several illustrious guests, famous political figures, kings, dignitaries & eminent personalities from across the globe such as president Jimmy Carter, His Royal Highness Prince Andrew, President Bill Clinton, the Emperor and Empress of Japan, Lord Louis Mountbatten, Prince Charles and Jacqueline Kennedy and not to forget our beloved former prime minister Shri Atal Bihari Vaypayee. Their desire to ensure that you get nothing but the best has acknowledged brand as a world leader in hospitality.
10. They are known for their personalised experience they shower on their guests. Once you make booking direct with them for your customers they will get back to you proactively about any specific occasions or special day guests are going to celebrate during their stay or any other specific requirements. After knowing such specifications they will make necessary arrangements to make your guest stay more personalised. And this will make your guest flat about warmest hospitality they will receive. And you will have happy, loyal customer.
12.  Their Properties and services are so impactful and engaging that guests keep staying / visiting them year after year. Here is the link to the review of one such loyal guest who is staying with them at Taj Malabar Kochi Resort for over 21 years and still feels the same excitement and joy for every next stay. Don't take it by my words…
Read the review by Mr Shiva Kumar for Taj kochi – read it in his own words
The point is with Taj you are sure that nothing is boring or dreary.
13. Complimentary room upgrade is much known amongst the Taj guest. And who do not like the higher category services for the price of lower category room they have opted for. They always try to do their best to deliver much more value to the guest spends.
14. Tata being the parent group work ethics are supreme. Along with many other firsts, they were also first to implement sexual harassment policy. So guests are ultra-safe even if you are a single lady traveller or gang of girls out for vacation.
15. When it comes to hospitality and service – small things makes big difference and guests touched by such attentions to details. Their thinking about the hospitality and pampering guest is so high that a request of a DVD is served with cold drinks & popcorn.
Read here how this small gesture has created lasting memories for guest at Vivanta by Taj, Panji.
HOTELS & GROUNDS
20. Almost each and every Taj Resort is planned with different local theme at most picturesque location to offer much realistic destination specific holiday experience even when you are not sightseeing outside but relaxing at the hotel premises. Ensuring you gather more from your vacation time.
21. Breath taking views, abundant greenery, secluded beach shoreline, tranquil ambience, lush manicured landscaping, thoughtfully kept outdoor sit-outs and much more…Taj Resorts are photographers delight. You are sure to get your perfect click for the life long memories.
22. Their resorts have large ratio of open space to built up area giving maximum privacy during guests'  romantic escapes. At some resorts its as high as half acre open space to one room.
23. They are expert in managing magnificent royal palace hotels to relive fascinating bygone era and to discover the rich Indian Royal History. They have 8 palace hotels in their portfolio. So if you really wish to deliver Signature True Indian Heritage Royal holiday experience to your customers you have to consider Taj as your first choice and leave rest to them.
24. Swings. They exactly know where to keep swings in their properties. And to us and many others this might be one of the most attractive element. Swing make every adult playful and bring back their childhood memories.
25. Almost all resorts offer many complimentary activities that keep the guest entertained during their stay and do not have single dull moment in their precious vacation alone or with family or friends. Traditional folk dance and music, archery, peddle boat in lagoon, pottery, cycling, bird watching, historic tours, tracking, cookery  – list is endless.
26. Here everyone is artist. And that includes their ground staff too – look at this beautifully arranged flower set ups that you must see at multiple places in 1 single hotel or resort.
MOST COURTEOUS STAFF
28. At Taj – their most courteous staff is the charm of the hotel. They will make you feel royal and everyone is concerned about your comfort and best stay. guest might forget the hotel but they always remember the service of hotel staff.
29. They have a staff who never say no. Anything you ask for – they will give their best to arrange that – it can be anything like bringing your half drink from the bar to room or early morning special food request or very quick laundry service or finding your lost sunglasses over the resort or teaching your kids bicycle – majorly every wish is delivered like a genie. It's the service of the staff that makes the hotel wonderful not just the location, décor or rooms.
30. Generally at Taj Resorts major staff is local. They are always eager to share their local experience and smart tips with guests as family member to make them explore the destination more authentically.
31. Staff here is fantastic at taking care of babies and toddlers. They are skilled to keep them entertained. You will feel that your kids are safe in their hands and you can have your own relaxed, free #weTime.
32. They are even more careful when it comes to critical situations – prompt medical treatment are made available to put you back in normal condition. And that's just not enough – you will get a call back to ensure that you reached back home safely. Such high level of integrity and care is very rare.
Read here the review of one such guest
33. Everyone here is approachable. No obstacles. You may find GM welcoming you at the reception or senior chef is asking you about the food or hotel in charge himself may take you on resort tour.
34. Not just the chefs but even housekeeping staff is keen to give you surprises. Your dear once will surely going to get surprised by the artistically decorated bed or few nicely presented chocolates or the mesmerizing aroma oils set up in the room and all such things not just for the first day or night. Even for the consecutive days too. They are just unseen artist.
35. As per their recent annual report their employee to room ratio is 1 employee to every 1.9 rooms. And in the low season this might be going down even further. Which means you are almost having 1 dedicated staff for your 1 room.
FOOD
36. Their chefs are known for their celebrity servings – some of them even had served to royal guest to India so you are sure to give treat to your taste buds while you are dining at any of Taj hotel restaurants.
37. With Taj Restaurants – you will experience some of the best presentation of food and extremely cool serving styles. Really feast for the eyes and taste buds.
38. You will be surprised to know that you can plan even your food itinerary with Taj Chef according to your food preferences when you are staying with them. So if you are having pure vegetarian or just vegan or pure Jain food habit or anything else – or you may be having any food allergy – do not worry – you will be at peace here without any hassle and ultimate culinary delight.
39. It's not just family friendly hotel chain, it's beyond that. It's actually an infant friendly – you must call that. You will feel ultra-comfortable here if you are staying with babies. You ask for anything related to babies or infant any hour of the day or night – you will get it. Any kind of food preparation at any hour is delivered with same concern as if it's their baby.
AWARDS
42. TripAdvisor Community recognise and put them amongst the most excellent hotel chains in the world. Yes you read it right – most excellent hotel chains in the world. Whats more you need?
44. Their in House Jiva Spa was also winner at World Spa Awards 2017 and remains nominated almost every year for the same. Known for authentic wellness rituals, spa treatments at Jiva Spa are sure to restore your vitality and relieves stress.
45. And not to forget – their Signature Loyalty Program – Taj Inner Circle is award winner too. This thoughtfully designed member reward program has been bestowed with the special 210 Award in the hotel category for the Middle East/Asia/ Oceania region for Strongest Performing Program off the Radar of Voters at the Freddie Awards last year (2018).
47. They are 8 times Gallup Great Workplace Award winner. No doubt here every one feels proud to be associated with the brand and company.
CSR & SUSTAINABILITY
49. They have successfully replaced 2 Million straws from their properties with paper or bamboo straws. This it-self requires huge exercise and motivation.
50. Over 20,000 youth trained from under-served communities, 14 Taj-Tata STRIVE skill training centers, support to local neighborhoods, artisans and cultural troupes members, support to heritage sites and many more activities. List is very long. These when you know – gives more satisfaction about the money spent at Taj Hotels & Resorts.
51. They are so much connected to their guest even post their stay. Their digital team must be super strong and well aware about social listening. One of their guest, Mr Johnny Jet wrote a blog post and mentioned about donating barely used disposable jute slippers at Jiva Spa. This feedback was answered by the Spa Business Director and informed to Mr Johhny about rolling out this initiative across all the spas. All Jiva Spas identify old age homes or charitable institutions in their respective areas and donate this barely used disposable jute slippers.
So many reasons….this it self is one more reason to consider Taj Hotels & Resorts as first choice. Here every guest, every traveler has a story to tell. One must stay with them to truly experience Indian Hospitality and what The Mahemaan (Guest) is and how the Yajman (Host) should be. We are all very proud to have such globally acclaimed hospitality brand in India that amaze every guest with wonderful experience.
Thank you for reading the blog post till the end. If you have any such experience or memory with Taj – please share with us in comments and we would love to read them.
Disclaimer:
The information contained in this blog post is provided solely for general informational purposes obtained from various sources. We do not guarantee availability of products and services referenced in this blog post and this website does not guarantee on any or all the offerings of any hotel.